---
Manitoba Moose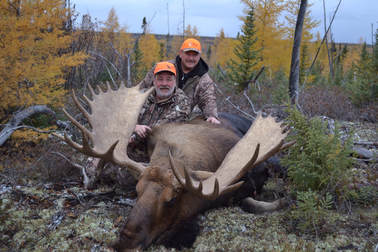 Come and join us for some of the most exciting big game hunting in North America!! Feel the excitement as your guide calls and rakes the brush. Suddenly you hear a distant reply. Your heart pounds as you listen to him grunt and make his way toward you. Suddenly the moose appears and you wait for him to present the perfect angle for a shot. As long as your hand is steady and your aim is true you will be rewarded with the trophy of a lifetime!

Our Moose Hunts start at the float plane base in Thompson Manitoba where you will board a flight north to one of our outpost camps on one of the many lakes in our outfitting territory.Our hunts are scheduled to take advantage of the peak rutting time of moose in our area. For that reason, we only hunt the following dates:
September 16-24
September 24-October 2
We also limit our hunts to no more than 18 hunters per season.
ALL PRICES IN USD - 2019
1:1 guiding - $15,000 per person
2:1 hunts are available for $12,000 per person.
What's Included
6 Full days of hunting, Moose License and Taxes
NO trophy fees
Round-trip transportation from Thompson to camp
Professional, licensed guides
Field prep of trophy and meat
Hunting for Wolf and Black Bear
Fishing
Meals
Comfortable accommodations (Accommodations will range from tent camps to insulated cabin.)
Not Included​
Bear License
Fishing License
Pre/Post trip travel and accommodations
Once an animal is wounded, every effort will be made to recover that animal. Regardless of the outcome, the tag will be considered filled for that animal.
Payment Terms
Deposits of $5,000 per hunter are required. Bookings will not be considered complete until the deposit is received. Deposits may be made by check or wire transfer.
Final payment is due 90 days prior to departure and can be paid by check or wire transfer.
Full payment must accompany any reservation made less than 90 days prior to departure
Once final payment has been received, you will receive and information package regarding your trip details.
Guests will be allowed a TOTAL luggage allowance of 50 pounds which may include:
Up to 2 duffel bags (24" x 12" x 12" each)
1 day pack
1 gun or bow case, only soft cases will be allowed on the charter flight into camp
Gun/Bow Cases
Commercial airlines require hard sided cases. We will have a secure location for storing these cases during your trip. Please refrain from bringing hard suitcases. Space is at a premium on charter flights into camp and soft duffels take up less space and are easier to compress. You must wear your full hunting gear for the charter flights to and from camp. We do have secure storage facilities to store any excess luggage, clothing and your hard bow or gun cases.
Weapons
Note: Archery and firearm targets will be set up at camp.
Rifle
Most shots will be under 200 yards, but shots of 300-400 yards may occur. We suggest flat shooting cartridges of .270 and up, with .300 calibres preferred. Bullets should be well constructed and no less than 130 grains. We recommend 2 boxes (40 rounds) of shells.
Muzzle Loader
We welcome black powder hunters. For those flying, it may be difficult to get black powder or primers on commercial airlines. Please give us 60 days in order to pre-purchase these items for you. We recommend a minimum .50 calibre muzzle loader for moose hunting.
Archery
If you are thinking of bringing a bow, please do. Moose are susceptible to calling and a close-range encounter is definitely possible. We recommend you practice and feel comfortable at up to 50 yards. We also suggest bringing 8 arrows with broadheads for your trip.
Fishing
As with all of our adventures, fishing is included for the cost of the license. We recommend bringing a medium/heavy action rod for pike/trout fishing, and/or an extra light setup for grayling (ask what fish are available at the lake you'll be at). A small tackle box with a few lures will be sufficient. Five of Diamonds, Red Devil, and Rapala crank baits will work for northern pike. For grayling, #0 and #00 Mepps Panther Martin and other mini spoons will work. Licenses will be available at camp.
---
Please contact us if you have any questions, would like a list of references, or to book your Manitoba Moose Hunt. Our tags are limited so book early to reserve your hunt.